A broken AC compressor can cause whole-system air conditioning malfunction. The air conditioning compressor is a vital part of your AC system.
Labor and Part Costs
The labor cost depends on what car you have, and it can vary between $300 to $500. If you want to save money and to extend the life of the part, it is better to buy a new AC compressor, rather than remanufactured or used one.

You may pay a little more for a new AC compressor, from $200 to $600, but have in mind that you could spend more money after buying a used or remanufactured one. If you get a part directly from a mechanic, you can save on repairing and installing the AC compressor. A remanufactured or used AC compressor can cause not only the failure of the air conditioning system but also the whole system of your car and you may need to replace all the parts in the AC system.
How Much Does Labor Cost For an AC Compressor Repair?
The labor cost will depend on what type of car you own, AC compressor repair cost can be high if you have a small car where everything is hard to get to, if you have a big car where it's not required to remove some parts during repairing the AC compressor, it could be less.
Prices depend on your mechanic as well, how much they charge per hour. If it's a dealer, the price is always higher, and if you go to a specialist, the cost can be higher than a regular mechanic's.
In the table below you can see how long it should take for a mechanic to repair the AC compressor, and based on your mechanic's rate, you will have an idea how much it should cost.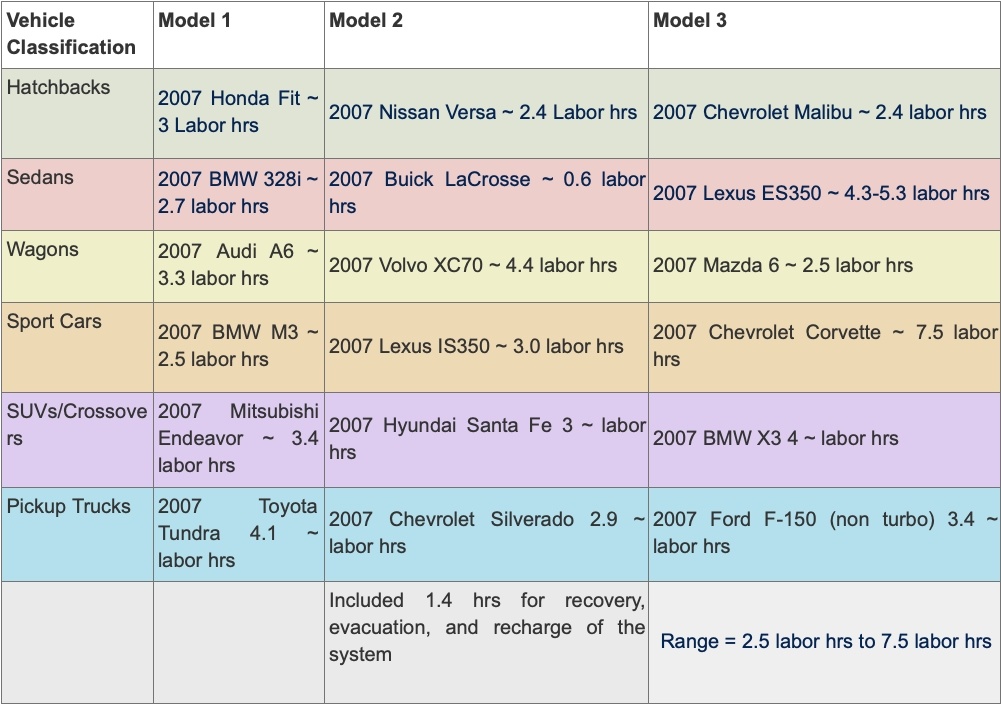 Why do labor times vary so much?
There are a lot of factors which can influence the cost of AC compressor repair. One of them is time, as we mentioned already. The time depends on where the part is located, how easy or difficult is to get to the part, and on your mechanic's rate as well.
According to this information, you will know what to do when you go to your mechanic. Some people get confused when it comes to repairing their cars and how much it will cost. Our advice is when it's time for a repair, shop around, go to different mechanics and get quotes, look for a certified and trusted mechanics , because sometimes the difference in price can be a lot.
First of all, before you go to your mechanic, get under the hood and check where your AC compressor is. If it's on top, it means that there is no need to take off some additional parts and cost will be lower. If it's down deep, it means that it will need a lot of work and price will be higher. This will help you to get a general idea on what you are looking for, explain to your mechanic more properly and be sure of what you need exactly and how much it will cost.
Save Money on a Replacement AC Compressor
First of all, go to your mechanic and ask him what parts you will need for a repair. And then go online and shop for the parts at the same price your mechanic gets them for. Avoid the middleman and the mark-up. Take the parts to your mechanic and have them installed. That way you will save a lot of money and will have a good quality part installed.